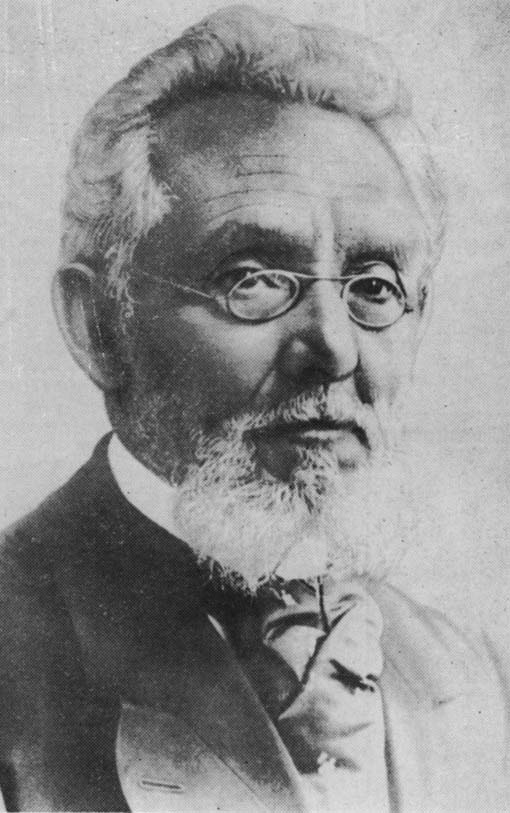 About Mendele Moykher-Sforim
(in Russian)
Sholem-Yankev Abramovich known by his pseudonym Mendele Moykher-Sforim is considered a classic of prose in two Jewish languages, Yiddish and Hebrew, as well as a pioneer of several genres of modern Jewish literature. He was born in 1836 in the town of Kopyl, known in Yiddish as Kapulye (Minsk Governorate of the Russian
Empire, now Belarus), but spent most of his life in Ukraine.
In 1867, Abramovich published a collection of Hebrew articles titled Eyn Mishpat ("Critical View"), which essentially laid the foundation for Jewish literary criticism. He also laid the foundations of the modern literary styles in both Hebrew and Yiddish. His short novel Di klyatshe ("The Nag") was, perhaps, the first literary work in
Yiddish that attracted the attention of non-Jewish readers. The Russian poet Ivan Bunin translated it into Russian in 1880, and the Polish writer Klemens Junosza (Szaniawski) – into Polish in 1886.
Abramovich, later to be known simply as Mendele, began his literary career in Hebrew. His first work in Yiddish, the short story Dos kleyne mentshele ("A Little Man") was published in 1864 in the newspaper Kol Mevaser. At that time, the Maskilim, adherents of the Jewish Enlightenment movement known as Haskalah, exhibited scornful attitudes towards Yiddish. Mendele's work in this language deemed too elitist to many, supposedly unsuitable for the poorly educated audience who could not read neither Hebrew, nor Russian, German or Polish.
But it was precisely this "elitism" that turned his prose into a foundational successful experiment, on which all the subsequent masterpieces of Yiddish prose were based. For this reason, Sholem Aleichem called Mendele Moykher-Sforim "the grandfather of Yiddish literature". Two novels are considered his most important works: Masoes
Binyomin ha-Shlishi ("The Travels of Benjamin the Third") and Fishke der krumer ("Fishke the Lame", later translated into English as "The Light Ahead", for the 1939 film based on this novel).
Mendele Moykher-Sforim died in 1917 in Odessa, where he had lived for many years. Streets named after him exist in several Israeli cities, including Jerusalem, Tel Aviv, Herzliya, Kiryat Yam, Ra'anana, Bat Yam, Rehovot and Holon.