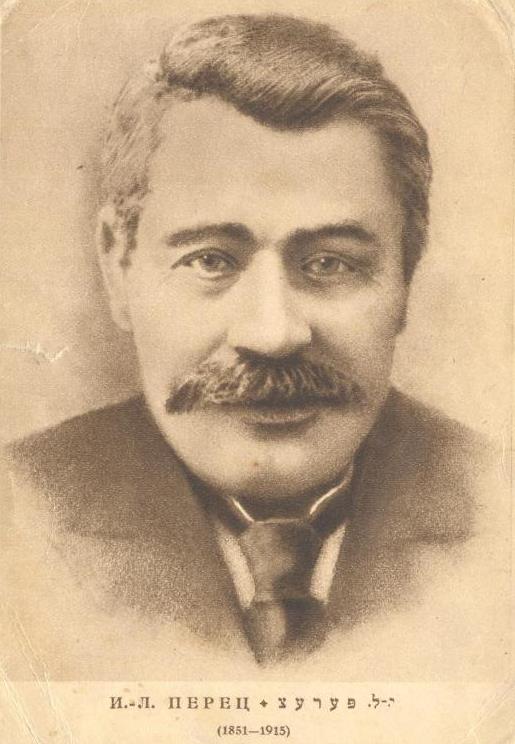 The Messenger
(book, in Yiddish)
The Itinerary
(book, in Yiddish)
Stories of a Log
(book, in Yiddish)
Yitskhok Leybush Peretz is one of the three classics of modern Yiddish prose, along with Mendele Moykher-Sforim and Sholem Aleichem. He was born in 1852 in the city of Zamość (Poland; then the Kingdom of Poland). Besides Yiddish and Hebrew, he was fluent in Polish, German and Russian. 
Unlike the other two classics, Peretz did not live in the Russian Empire and was not much influenced by its literature. His main source of inspiration was the literary world of Western Europe. His first publications were in Polish, then in Hebrew. Yiddish became the main language of his work relatively late, starting from 1888. 
As an author of vivid romantic works infused with elements of mysticism, Peretz may be considered a forerunner of the world famous Nobel Prize winner Yitskhok (Isaac) Bashevis-Singer. Peretz's two collections of short stories, Khsidish (Hasidic tales) and Folkstimlekhe geshikhtn (Folkloric tales), his plays Baynakht oyfn altn mark ("At Night at the Old Marketplace") and In polish oyf der keyt ("Chained in the Synagogue Antechamber"), as well as his poem Monish, had a tremendous impact on the further development of Yiddish literature and theater.
During his lifetime, Peretz had already become one of the symbols of modern Yiddish literature. When he died in 1915 in Warsaw, many thousands gathered at his funeral. Streets named after Yitskhok-Leybush Peretz exist in several cities of Israel (Tel Aviv, Haifa, Hod haSharon, Bat Yam, Holon, Kiryat Yam, Giv'at Shmuel) and Poland (Warsaw, Zamość, Kutno, Wrocław). There is also Peretz Square named after him in Lower Manhattan, New York.